ANNUAL EASTER EGG HUNT
Candy * Prizes * Refreshments
Come experience the hunt!
Migliazzo Park * Saturday, April 2, 2022 * Hunt begins at 10:00 a.m.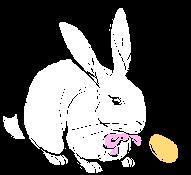 All Verona Hills children and grandchildren ages 10 and under are invited. Refreshments will be provided. Please make sure to B.Y.O.B(asket). If needed, the rain date will be the following Saturday, April 9, 2022.

Note: The Annual Easter Egg Hunts in 2020 and 2021 were canceled due to COVID-19.

In 2021, households were able to sign up to receive baskets delivered to their doorsteps. Special thanks to the VH Easter Bunny and fellow volunteers!