2013 EVENTS
Upcoming Events in 2013 - visit our VHHA Facebook page for updates.
March 23:
April 27:
Sept / Oct:


Easter Egg Hunt in Migliazzo Park..
VH "Helping Hands" event.
Garage Sale and Autumn Festival.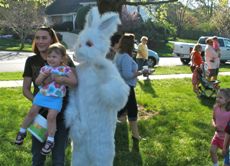 Easter Egg Hunt Coming Soon!
Join us in Migliazzo Park at 10:00 on Saturday morning, March 23. Meet the Easter Bunny at the annual Verona Hills gathering for children and grandchildren up to 10 years old. All residents are invited to stop by for coffee, juice, donuts and prizes even if you don't have a child in the hunt.

_________
We are always looking for neighbors to help us with our many neighborhood events. Commitments can range from assisting with planning the event to simply helping with set-up or clean up. Please contact Doris Holderness at info@veronahills.org if you would like to help out with any of these exciting events. Get involved, it's great fun!